The "Forever VFO Project" Nears Completion!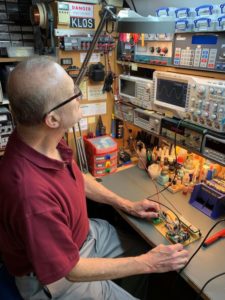 Rick AK4MV has been a stalwart member of the club's Builders Group just about since the beginning in 2014. He's had a long standing project in the works, a solid state, synthesized, "boatanchor" VFO to use with his retro HF station. It's been sort of an inside joke at Builders Group sessions that Rick's VFO has taken "forever" to complete and thus it's been dubbed the "Forever VFO Project". Seriously, Rick has made significant progress lately and found several issues that required the circuit designer to address and Rick has now fixed them. He brought it over to Dino KL0S's workbench recently to confirm that it was in fact working correctly and to calibrate it using a very accurate frequency counter.
By the way, Builders Group will start up again in the fall so watch the WAARC email reflector for details later this year. Dino.