2019 ARRL Field Day information
Field Day 2019 is June 22-23 and will be held at Little Creek Reservoir Park in Toano. Click here for directions to the Field Day site. We will be on the air from 2pm Saturday until 2pm Sunday.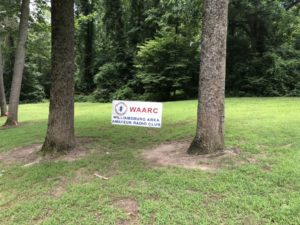 We will be headed out to the site around 10am Friday, June 21 to set up the antennas. There will be a breakfast gathering beforehand. If you wish to join us, please listen out on the 146.760 KB4ZIN repeater Friday morning for the restaurant location.
Setup will resume Saturday morning in preparation for the 2pm Saturday start time. WAARC will be operating a two transmitter station, with a VHF 6-meter station and a GOTA (Get On The Air) station.
All visitors are more than welcome to come out and see what we do with amateur radio and portable operations. If you are a recently licensed ham operator, or do not have a license, you are able to operate our GOTA station.
Saturday evening there will be dinner, with hamburgers and hot dogs. There will be plenty of food so come out and join us.
We will be operating overnight in a public park. While we have permission to be in the park after dark, the gate will be pulled shut but not locked.  If you stop by overnight you will be able to open the gate and drive up to the site.
We look forward to seeing you at Field Day!