WAARC began its FCC General Class upgrade course on Monday September 17th and runs through October 18th.
Club Training Coordinator Wally Frank WA3RWP greets the class.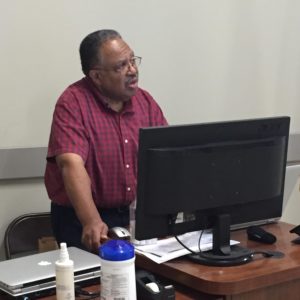 The club was fortunate to be offered the classroom facility at the James/Bruton Volunteer Fire Station in Toano.  The room was coordinated by Michael Powers KN4KXO, a member of the club's 2018 Technician licensing class.  
The class gathers twice a week on Mondays and Thursdays from 10:00 a.m. to 12:30 p.m. and the club VE exam session will conclude just in time for the October 20th VE session.
 Note: the exam session is open to anyone wanting to take one or more exams and will be conducted at the same facility.
Six of the seven members of the class are graduates of the Technician class presented earlier this year.  Instructors for the class include Wally WA3RWP, Kerry NH2A, Marcus WB5LFS and Dino KL0S.